There are a number of different heat pump ratings that you need to be aware of when choosing you heat pump. In order to get the most energy-efficient heat pump for your home you need to have a good understanding of the HSPF, SEER and Energy Star ratings that the pump has been given. This is basic knowledge that you need to take with you when doing your shopping for heat pumps. These pumps are not cheap, so your focus should be on getting the best value for your money.
It is not enough to ask which manufacturers have the best heat pump ratings; you also need to know what the specifics of your house are as this can have a huge effect on the ratings of the heat pump you choose to buy. Things that you need to keep in mind include:
The size of the home
The amount of insulation in the home
Generally speaking, you should have one ton of air conditioning for every 400 to 500 square feet in your home. Remember that a big heat pump may not be as efficient if your home is the wrong size for it.
SEER Heat Pump Ratings
SEER stands for Seasonal Energy Efficiency Ratio. The higher the SEER rating on the pump, the better the efficiency of that pump is. This is the most common measurement by which consumers measure the energy efficiency of the heat pump that they want to buy. Just remember that this only refers to the cooling efficiency of the unit, so this will not be of much use to you if you want the pump specifically to generate heat. Therefore it is essential that you also consider the HSPF or Heating Season Performance Factor.
Here is a list of some of the more common SEER ratings to be on the lookout for. You should aim for as a high a SEER as possible, but remember to take note of the HSPF factor as well as this is more important:
8 SEER = 0% efficiency
10 SEER = 20% efficiency
12 SEER = 33% efficiency
13 SEER = 38% efficiency
14 SEER = 43% efficiency
15 SEER = 47% efficiency
16 SEER = 50% efficiency
19.5 SEER = 59% efficiency
The average heat pump that is on the market today has a SEER rating of about 14. This means that you will save around 43% in terms of energy. If you are planning to replace an older heat pump that is currently in your home you will notice huge energy savings as most older pumps have a SEER of rating of about 7 (as you can see from the list above this means that there is 0% energy efficiency). The difference is enormous. The initial money spent on the heat pump may be rather substantial, but it will be a good investment, as you will be saving money long term.
HSPF Heat Pump Ratings
HSPF stands for the Heating Season Performance Factor. This is an essential measurement to be aware of when looking into the efficiency of the various pumps that you are interested in buying. In fact it is the most important measurement. This is a measurement based on how much heat output is provided by each unit of electricity used. When considering the HSPF rating you should be on the lookout for ratings of around 5, 6, or 7. These are generally considered to be the best HSPF ratings. The higher the HSPF rating the more savings you will make on the purchase. Most heat pump manufacturers give both SEER and HSPF ratings when marketing their products.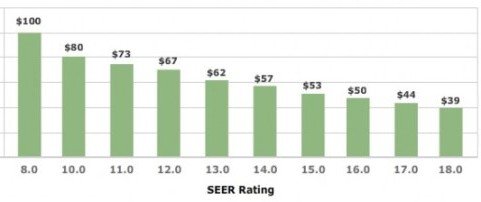 ENERGY STAR Heat Pump Ratings
As with any new appliance you buy for your home look for the Energy Star Rating. Energy Star qualified products use less energy, save money, and help protect the environment. Energy Star aims to:
"Reduce greenhouse gas emissions and other pollutants caused by the inefficient use of energy; and
Make it easy for consumers to identify and purchase energy-efficient products that offer savings on energy bills without sacrificing performance, features, and comfort."
Companies with High Ratings
The following companies that have the best heat pump ratings are:
Out of these, Trane is probably the best as it has a super efficient range. If efficiency is what you are looking for, consider getting one of the following heat pumps:
XL19i ultra efficiency unit
XL16i ultra efficiency unit
XL15i super efficiency unit
XL14i super efficiency unit
Several high efficiency units
Several standard efficiency units
Rheem is also a good option as they offer the following SEER ratings and provide HSPF information on their site:
Prestige Series with a SEER of 16
Classic Series with a SEER of 14
Value Line Series
There are a few additional things that you can keep in mind when selecting a heat pump:
The best way to compare heat pumps is by going online and looking at the different manufacturers in your area.
Look into the tax incentives being offered for use of certain heat pumps (these pumps also tend to have high ratings).
Again, it is important to ensure that the unit you select is the correct size for your home.
Shop around by getting estimates from at least three different contractors.
The information contained above should be enough to help you decide which heat pump you would like to buy. A good understanding of these ratings is an essential aspect of finding the best heat pump for you. Remember at all times that the HSPF is more important if you are primarily going to use the pump to keep you warm, and the SEER is only relevant when measuring the efficiency of its cooling. Energy Star heat pump ratings are also important, but usually you will find that a pump with a good Energy Star rating automatically has good SEER and HSPF ratings as well, so this is a secondary criterion. Energy efficiency is an important component to life in this modern world and you simply cannot ignore this feature when considering different heat pumps.